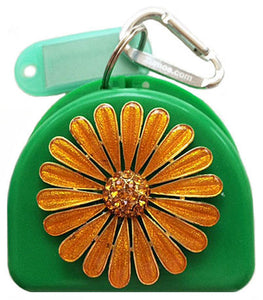 525 Golden Rod Mouth Guard Case
Regular price
$15.99
$0.00
Zumoe mouthguard, retainer cases are decorated, fun, colorful and inspiring. Our Mouthguard cases add some pizzazz to mouth guard containers for lacrosse, ice hockey, field hockey, martial arts, and all sports. Zumoe MouthGuard case will look spectacular attached to your sport's bag with your carabiner. Don't forget to put your name and number on your ID tag to prevent your mouthguard from being lost. 
Our cases can also be used for Pacifier holders, no more dirty pacifiers, a safe and cute way to store this important baby product. Attach the case to your stroller, car seat, purse with the carabiner, easy access for you in the time of need. 
Golden Rod  Beautiful golden petals in a circle formation encased in a delicate crystal pattern in the center.